NIM standard nanosecond laser light source(OPG-NIM)
Home>Products>Light source(OPG-NIM)
NIM standard nanosecond laser light source (OPG-NIM)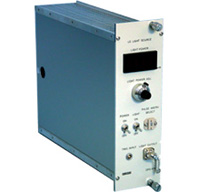 NIM standard laser light source
OPG-NIM is NIM standard nanosecond laser light source. It can be driven external pulse signal.

Catalog(PDF/123KB)
Please check the specifications on this catalog
*NIM: Nuclear Instrument Module
*BIN power supply is necessary to use NIM module.
Feature
Optical output of nanosecond
Drive by a external trigger signal
Optical fiber output
Optical power is variable 3digit and half LED display
Pulse width: 1ns, 3ns, 5ns (standard model)
Light on/off ratio: > 75dB (High ratio 120dB or more type is also available)
Pulse width can be selected by panel switch
Repetition frequency: single-shot ~1MHz
Wavelength: 380~980nm available
-Customization service-
The specified core size and the pulse width type can be manufactured.
Waveform of pulse response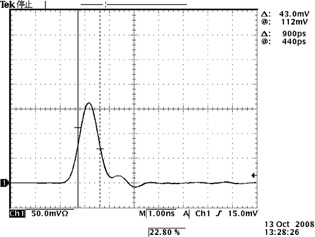 OPG-NIM can output 1ns~5ns light pulse of nanosecond.
Series list
| Model | Wavelength | Model | Wavelength |
| --- | --- | --- | --- |
| OPG-NIM-380 | 380nm | OPG-NIM-670 | 670nm |
| OPG-NIM-405 | 405nm | OPG-NIM-780 | 780nm |
| OPG-NIM-440 | 440nm | OPG-NIM-830 | 830nm |
| OPG-NIM-473 | 473nm | OPG-NIM-850 | 850nm |
| OPG-NIM-630 | 630nm | OPG-NIM-980 | 980nm |
| OPG-NIM-650 | 650nm | | |
---