Photodetector
Photodetector (M-100 series)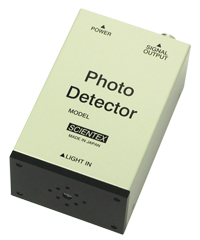 Photodetector unit with built-in power supply and amplifier
Photodetector unit (M-100 series) is an optical measuring instrument that uses the light detecting element of high sensitivity and builds a power supply and a special amplifier into.
An optical incident type is personally a standard. C mount lens, FC or the SMA connector can be installed in the option. It is possible to use it by connecting it with the microscope and the optical fiber.

Catalog(PDF/866KB)
Please check the specifications on this catalog
Feature
- The element with high sensitivity in visible light and near infrared rays is built into. *The temperature correctio circuit is built into for the APD element.
- Stability is operated for the temperature change. The high pressure is built into.
- AC adaptor: Standard attachment. *AC85-240V input.
- With built-in high-speed amplifier.
- It is addition in module bottom M6 screw hole
- It is possible to set it up in the optical bench.
Products
In the incidence of light, the direct input type is a standard. Additionally, three kinds can be selected. Please specify it when you order.
| | | |
| --- | --- | --- |
| C mount lens input type | FC input type | SMA input type |
The list of basic unit
| Model | Spectrum response(nm) | Bandwidth |
| --- | --- | --- |
| M-100-APD-X-1 | A,C,E | DC-250MHz |
| M-100-PD-X-1 | B | DC-250MHz |
| M-100-APD-X-2 | A,C,D,E,X | DC-100MHz |
| M-100-PD-X-2 | B,F | DC-100MHz |
| M-100-APD-X-3 | A,C,D,E,X | DC-10MHz |
| M-100-PD-X-3 | B,F | DC-10MHz |
| M-100-APD-X-4 | A,C,D,E,X | DC-0.5MHz |
| M-100-PD-X-4 | B,F | DC-0.5MHz |
| M-100-APD-X-5 | A,C,D,E,X | DC-0.2MHz |
| M-100-PD-X-5 | B,F | DC-0.2MHz |
Bandwidth
Spectrum response (Upper stand: Peak sensitivity(V/W), Lower stand: Diameter of detection element(mm))
A
B
C
D
E
F
1
7.6X102
Ф0.2
2.2X101
Ф0.4
1.8X103
Ф0.5
−
4.2X102
Ф0.2
−
2
3.1X104
Ф0.5
7.8X102
Ф0.4
7.5X104
Ф1.0
1.0X105
Ф1.0
1.3X104
Ф0.2
1.3X103
Ф0.3
3
1.5X106
Ф0.5
3.9X104
Ф0.4
3.7X106
Ф1.0
5.0X106
Ф1.0
6.7X105
Ф0.2
6.7X104
Ф0.3
4
4.7X107
Ф0.5
1.1X106
Ф0.4
1.1X108
Ф1.0
1.5X108
Ф1.0
2.0X107
Ф0.2
2.0X106
Ф0.3
5
1.1X108
Ф0.5
2.9X106
Ф0.4
2.8X108
Ф1.0
3.7X108
Ф1.0
5.0X107
Ф0.2
5.0X106
Ф0.3
Spectrum responce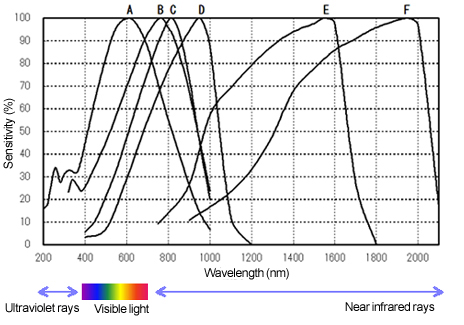 ---

Top of this page

Products